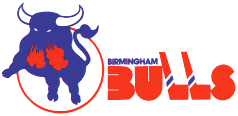 Team and League History
May 1976

John Bassett, owner of the World Hockey Association's Toronto Toros, says he is interested in placing his hockey team in Birmingham. Bassett was also the owner of the defunct World Football League's Memphis Southmen.

Bassett has told the city of Toronto that he will be moving his franchise before the 1976-77 season begins and has already visited St. Paul (MN), Hollywood (FL) and Ottawa, Canada.

During the past weekend, Bassett took a tour of the new, and still unfinished, 17,000 seat Civic Center Coliseum with his friend Jack Gotta. Gotta was the head coach of the WFL's Birmingham Americans and the Vice-President and General Manager of the WFL's Birmingham Vulcans.

"I've visited the great arenas of the world, and this is as fine a facility as I've seen anywhere. The people here don't realize what they have. If they did, they'd have a tenant lined up already," Bassett said.

Bassett is sending his Marketing Director Pete McAskile to Birmingham this week to meet with city and coliseum officials.

Previously, the Toros franchise was the Ottawa Nationals in 1972-73 during the WHA's inaugural season. Ottawa played the Alberta Oilers in the first World Hockey Association game ever, losing 7-4.

John Bassett purchased the Ottawa franchise in 1973 and due to lack of fan support in Ottawa, moved the franchise to Toronto where they became the Torros.

Gotta is excited at the possibility of Bassett coming to Birmingham. "John practically carried the World Football League for two seasons. When John came here with Memphis for the last football game we played, he saw the facility. When it became evident that he has to move his Toronto team because the city cannot support both the (National Hockey League) Maple Leafs and Toros, he remembered it. I can tell you, he was totally impressed when he was given a tour over the weekend. He came here more or less on a fact-finding mission, but he left really awed. Of course John has always liked Birmingham. He talked about the competitive atmosphere and the winning environment he sensed when his Memphis team was here to play us in football. I believe the fans here would go for hockey because of their love for contact sports. And I can tell you, the best man in hockey is the one we're dealing with. Let me emphasize that my main objective is to get professional football for Birmingham, and that won't change. I'm merely helping John because he's a good man and I believe a hockey team here would enhance our bid for a NFL franchise," Gotta said.

Gary Davidson and Dennis Murphy co-found the World Hockey Association on June 10th, 1971, as an alternative to the National Hockey League. Davidson and Murphy also co-founded the American Basketball Association in 1968 to rival the National Basketball Association. Davidson served as the WHA's first President until October 29, 1973, when he resigned to devote his attention to creating the World Football League.

Toros Marketing Director Pete McAskile is in Birmingham to tour the city and meet with city and coliseum representatives.

"I don't know a thing about Birmingham and I'm here to find out. We're keen on finding a home where people want us. We're gonna have a helluva hockey team in the years ahead, and our players want to put their feet down where people respect hitting and checking and winning. The guys want a home so badly it is unbelievable. We've played second fiddle to the (NHL's) Maple Leafs in Toronto since we arrived, and we've decided it's time to find our own home. John (Bassett) was totally impressed with the facilities here. He thinks the arena here can be as good as there is in the world. He came back to Toronto after Jack (Gotta) had shown him around absolutely ecstatic. He sent me down to look the situation over thoroughly. I'll be here four or five days, checking into everything. I'll look into industry, to see if these people are willing to buy tickets. I'll check on the entertainment dollar available, and ascertain if people are willing to spend it on hockey. What do people do here for entertainment? Do they go to the movies? To the ballet? Is Birmingham looking for a basketball team? These are things I'm here to find out," McAskile said.

McAskile points out that the Toros have two of the five hockey players of all time on their roster, Frank Mahavolich and Vaclav Nedomansky. "Mahavolich, of course, is known to people everywhere. He is the third leading goal scorer of all time in hockey, behind Gordie Howe and Bobby Hull. Paul Henderson is a superstar in Canada. Mark Napier, our Rookie of the Year in the WHA, is the most exciting player since Bobby Orr. So we have two of the best who ever played the game, and the most exciting young player in hockey. Hockey is the fastest game in the world and definitely one of the most exciting. The fans get involved because they're right on top of the action. Seeing hockey in person will win any fan who loves contact. It's not at all like watching it on television," McAskile said.

Hockey has done well in the deep South with a team in near-by Atlanta.

"When the Toros started, it was a tough market. The fans in Toronto are the most knowledgable in the world. And they were all Maple Leaf fans. Here (in Toronto) we are going against them with all new players, and playing in the same arena. It was a fight for media coverage, and we naturally got second play. The papers there didn't even cover us on the road. So I really love the thought of trying it someplace like Birmingham," McAskile said.
McAskile has all but completed his fact-finding tour of Birmingham and he likes what he sees. "Birmingham is definitely leading the pack. But it's my gut feeling that if it's approached properly, hockey will definitely go in Birmingham. I've already had more support from the community than I ever had in Toronto. I like what I see. As I said earlier, I love the facility. And the people, to a person, have been honest with me. Most say they nothing about hockey, but are willing to learn and want a team. I have also met a surprising number who have had contact with hockey. There are a lot more people here from the North than you think. They are anxious. Everybody agrees education will be a major factor. I don't believe that will be a problem. From what I gather, this city goes nuts over sports. I believe they would pick up the rudiments of hockey quickly," McAskile said.

Having just been burned by the World Football League, the city could be leery of another league with the word "world" in its title. "Unlike the World Football League, the World Hockey Association has been around a few years. The WHA will be going into its fifth year. Three or four teams in the league (of the twelve) obviouslly need help. We're one of them. On the other hand, there are three or four teams in the NHL who aren't exactly prospering right now. So it's my contention that the World Hockey Association is no worse off than the National Hockey League. There are definitely eight solid hockey teams financially solvent and ready to play. These would make a good league. But we'll probably go with twelve again because a lot of people still want hockey. Most teams will be in the black within a couple of years as the salary level declines. The expansion craze is about over. Merger is also a possibility, maybe in a couple of years. It makes sense from a financial standpoint. We already have inter-league trading, and there was some activity in this area. We're not stealing players from each other like before, and we (Toronto) are the last franchise going head-to-head with an NHL team. Once we move, the markets will be clean. That's not to say there isn't still some animosity between the leagues, because there is. But that's on the decline, too," McAskile said.
Bassett and McAskile return to Birmingham. "We're back to get some definite answers to some definite questions. Primarily, we're back to talk with some people about investing in the hockey team. John was in St. Paul last week and we've taken a closer look at Ottawa. Now we're back in Birmingham," McAskile said.
At a press conference at the Birmingham Chamber of Commerce, Bassett announces that he has narrowed the list down to St. Paul (MN) or Birmingham. The final decision could come any day.

"I am hopeful we'll be able to put a package together and tell the league we'll be here next season. I am very impressed with this market, and you are going to have one of the finest three or four arenas in North America. Birmingham is a great sports city, but the last two or three times I was here my teams (WFL's Memphis Southmen) got kicked around and that wasn't very much fun," Bassett said.

Bassett orginally looked into Birmingham as a hockey town for the league as a possible expansion market. "I hadn't considered our team moving here, but I knew Birmingham is a good town. So a couple of weeks ago I came to look at the new facility for the league. People let me know they were not interested in an expansion team. But if an established team, with good personnel and a solid organization were available, they would be interested. So I sent Pete McAskile down to check some things, then decided I'd come back to get a feel of the market. I am impressed. I have met with some people, and they seem enthusiastic. And Birmingham is probably the biggest city in North America without a professional sports franchise of any kind. It just doesn't make sense to me that something isn't here, with the facilities available," Bassett said.

St. Paul is an attractive option, but Birmingham may have an edge against it. "I don't particularly want to go to St. Paul and take on the National Hockey League across the river in Minneapolis, also the Minnesota Vikings and the Twins. This is a fresh situation, and we'd be starting out new. I've had enough battling the established team in town. That was the situation in Toronto. We were drawing well, but it cost us an arm and a leg to rent Maple Leaf Gardens from the NHL team. We got the poorest dates, poor ice and everything negative they could unload on us. In the beginning we had intended to build our own rink in Toronto, but we weren't able to do that because inflation hit us. We drew well in our two years there. We averaged about 10,000 last season and about 9,000 this season, but the way things were we needed 15,000 just to break even," Bassett said.

Educating the sports fans of Birmingham will be one of the biggest obstacles, but one Bassett thinks this can be done. "We have to make people aware hockey is not boxing and wrestling on ice, but a game of finesse and skill. It's the fastest game in the world, and you have to see it to appreciate it. Hockey doesn't televise well. You have to be there to feel it. I know people here like contact sports and they like good entertainment. They'll love hockey," Bassett said.

June 1976

At a gathering of local investors and fans, Bassett said he was moving his World Hockey Association franchise to Birmingham.

"Unless something unforeseen happens, they'll be professional hockey in Birmingham this fall," Bassett said. When pushed, Bassett said it was 85% likely to happen. "Of course, there has been a lot of money won betting on 15% possibilities, " Bassett said. The 15% is made up of four factors that could derail the move. One is the league could vote against the move. Another would be if the club's current investors vote against the move. Complications in the differing tax laws between the United States and Canada could cause an issue. And finally, the team may not be able to come to terms for renting the Coliseum. Bassett doesn't think any of these situations will likely occur, however.

If all goes as planned, the first game would be an exhibition game versus the NHL's Atlanta Flames. The second game could possibly be another exhibition game against an NHL club, this time the New York Rangers.

Locally, Bassett sought out 30 people to invest $40,000 each, providing him with a $1.2 million nest egg. "There has been a very positive investor response. We have 30 lined up and 25 more on a waiting list. And they're all first class people," Bassett said.

One local investor is Bill Ireland. "He is bringing us something on a platter that we just have to take. Hockey will be goo for the city. This is a great sports city and we should have professional sports. There's no question about getting the money from local people. The proposition John's making to investors can't lose. Of course you won't make a lot of money, but that's not what most of us are after anyway. I'm just interested in Birmingham having the team," Ireland said.

Next up is a league meeting on the 29th where Bassett will pitch his plan to move.
McAskile is back to set everything up in Birmingham for the move from Toronto.

The team will be known as the Birmingham Bulls, taking a cue from their former name, the Toronto Toros.

"The lease hasn't been officially settled for the Coliseum, and there's some paper work to be completed in Toronto, but unless something drastic comes up we're in Birmingham for good now. The league has to approve transfer of the franchise at the meeting on the 29th, but we foresee no problems there, either. I'm here now to establish an office and get things going. First thing you know it'll be opening night with the Atlanta Flames (exhibition on September 21st) and we have a million things to do," McAskile said.
At a World Hockey Association meeting in Toronto, league officials vote unanimously to allow Bassett to move his franchise to Birmingham.

Also, the club said that negotiations with Coliseum management has been going well enough to reach a verbal agreement. A signed agreement should occur any day.

Season ticket sales are going at a brisk pace with 1,100 sold in two days. "That's unbelievable. And I expect it to really accelerate now that everything is official. I'm really excited. I couldn't be more fired up. I can't wait to get some of our players down here and really get things rolling. I know they feel as I do, that Birmingham is going to be something special this fall. Our players are hungry for a place to call home. We played second fiddle to the Maple Leafs in Toronto. They have been there 40 years. Maple Leaf Gardens is their arena and we were treated like dirt. They robbed us for rent, gave us the worst playing dates and the people who worked at The Gardens couldn't care less about us," McAskile said.

In other league news, the Cleveland Crusaders will be moving to Hollywood (FL). A 12th team is expected to play but a last-ditch effort is underway to save the San Diego Mariners from dropping out of the league.
October 1976

1976-77 World Hockey Association

Eastern Division
Western Division
Birmingham Bulls
Calgary Cowboys
Cincinnati Stingers
Edmonton Oilers
Indianapolis Racers
Houston Aeros
Minnesota Fighting Saints
Phoenix Roadrunners
New England Whalers
San Diego Mariners
Quebec Nordiques
Winnipeg Jets

November 1976

Bulls head coach Gilles Leger says he my give up that job to concentrate on his other job as Bulls General Manager. Leger has recently had extra front office work given to him because the Bulls owner, John Bassett, is in a hospital in Canada awaiting major surgery.

Leger said Pat Kelly, currently the head coach of the Bulls' Charlotte Checkers farm club, will be in town for possible placement with the Bulls. "A lot of my time now is consumed with front office details. We'll make a decision on whether Kelly will be an assistant coach or take over the team. I'll take the situation to John Bassett and he will do what needs to be done," Leger said.

??? 1977

Pat Kelly quits to become the head coach of the National Hockey League's Colorado Rockies.

Glen Sonmor named head coach. Sonmor's playing career ended in 1955 when he lost an eye while playing for the American Hockey League's Cleveland Barons. His first coaching job was with the University of Minnesota's Freshmen team. He then coached the Junior A team at St. Catherine's, Ontario, Canada. After being the head coach at the University of Minnesota for a few years, Sonmor's first job in the professional ranks was with the WHA's Minnesota Fighting Saints in 1972.

January 1978
The Cincinnati Enquirer dubs the Bulls the "Birmingham Bullies" because of their physical nature of their play, especially when playing against the Cincinnati Stingers.
The WHA lifts the six-month suspension they had on owner John Bassett for signing underage Kenny Linseman to a contract. However, it took some slick maneuvering on Bassett's part. At the end of the league meeting during the All-Star game in Quebec, President Howard Baldwin asked if there was "any additional business?" Before Howard could gavel the meeting closed, Bassett stood and said, "I have a motion to make, Mr. President." Baldwin responds, "Yes, John, what's your business?" Bassett says, "I move that the suspension of the owner of the Birmingham Bulls be cancelled and he be allowed to resume all the normal duties of running his club." As the other owners looked at each other, Chairman of the Board Ben Haskins said, "I second that motion." Baldwin had no choice but to follow with, "It has been moved and seconded that the suspension of the owner of the Birmingham Bulls be terminated. Anyone disagree?" No owner did, and Bassett walked out back in control of his team.
The WHA formally asks the Bulls to stop a local performer from singing "Dixie" before face-off. Opponents have complained about it and apparently it "incites the crowd". The Bulls rightfully refuse the request.
Bassett states that the rumors of the WHA's demise are exaggerated. Bassett said, "There's a gigantic difference in the WHA and the WFL, and it's summed up in one word - 'ownership'. There's nobody in our league that's going broke. Every team has the capacity of ownership to play as long as it wants to. The resources are there. The question is, do the owners want to use these resources in this line of business? There's no way I can see there not being a hockey team here next year. If there's no WHA, I know the American Hockey League would grab Birmingham in a hurry. I can't answer whether there'll be a WHA or not, but I certainly know New England, Winnipeg, Edmonton, Quebec and Houston are gonna play pro hockey. If we keep going like we are now, we're gonna play, too. I don't know what league."
February 1978
The WHA's Board of Trustees are meeting in Chicago to discuss their future. Edmonton owner Peter Pocklington says they've agreed to "regroup and to find a way to strengthen some of the weak franchises. All the people involved agreed to work at solidifying their own product. We don't want to cater to the whims of the National Hockey League (NHL) like we did last year."
Cincinnati police arrested Bulls defenseman Frank Beaton between the first and second periods of their game against the Stingers. Beaton was charged with assault in March of 1976 in an incident at a gas station. Gabriel Fieno, the station attendant, contends that Beaton broke his cheek bone in a fight when he accidentally spilled gasoline on Beaton's Corvette. Beaton says Fieno did it on purpose then refused to clean it up. The Stingers Head Coach, Jacques Demers, posted the $2,000 bond himself stating, "We stick together when it comes to things like this." The 6 Cincinnati policemen that forced their way into the Bulls locker room had their billy clubs out and ready. Beaton hid in an equipment storage room while the officers demanded identification from the other players. Beaton ultimately surrendered and was led away in handcuffs.
At a team owner's meeting in New York, a vote was taken whether to allow teams to petition the NHL for membership. The proposal passed 7-1, with Bulls owner John Bassett being the only no vote. Houston, Winnipeg, Edmonton and New England say they will apply. Bassett said, "In my opinion, this latest action is not in the best interest of the WHA. The timing is totally wrong, and it's the wrong kind of move to make at this time. I see no reason to get players and fans worried and concerned right now. Legally, there's no way any team in the WHA can go into the NHL without the permission of every other team, and we haven't given permission to anybody. I wish them good luck in their efforts to join the other league, but they have to deal with us before they get in. We're in the WHA, and until I see something to change my mind, it's the WHA, period."
June 1978
Bassett announces that John Brophy will be the new head coach after Glen Sonmor quit to become the Director of Player Personnel with the Minnesota North Stars.

At the conclusion of his twenty-one year playing career, Brophy's first job coaching was as the head coach for the North American Hockey League's Long Island Cougars. The next year, he joined a brand new league, the Southern Hockey League, when he went to the Hampton Gulls as their head coach. His Gulls won the SHL's championship in 1976. Brophy stayed with the Gulls as they joined the American Hockey League in 1977. However, the Gulls folded before the season ended due to financial difficulties, and Brophy joined the Bulls late in that same season.

Indianapolis Racers owner Nelson Skalbania signs 17 year-old Wayne Gretzky to a contract for $1.75 million.

Bulls owner John Bassett said, "I can't comment on the matter because I don't know the details. But I know the type contract Skalbania signed Gretzky to is the same kind I signed Larry Csonka, Jim Kiick and Paul Warfield to in the World Football League. If Mr. Skalbania wants Gretzky to cut grass, drive his automobile, play football or play hockey, then Gretzky is supposed to do it. It will be interesting. If Gretzky is approved, then I have about 6 quality under-age juniors lined up. I wasn't interested in Gretzky. He has great talent, no doubt. But he's only 5' 8" and 150 pounds, something like that. I don't know if he can take the physical abuse he'll be subjected to."

Bassett releases Tony McKegney to the NHL's Buffalo Sabres. "I'm just not gonna put out that kind of dough for players anymore. Plus, I had a lot of season ticket holders calling up and complaining because he is black. It is the most negative reaction I've had since I've been in Birmingham. I didn't know it was here anymore. It's very discouraging. I gave him permission to go to Buffalo. I'd rather he go there than come here," Bassett said.

Bassett went on to comment on the NHL/WHA merger rumors saying, "Eventually, it must come down to one league, but some of our owners are going about it the wrong way. You don't buy your way in - you build toward parity. Then you demand a Super Bowl of hockey with the NHL as the American Football League did with the National Football League. That is the route to merger - equal strength."

The NHL announces they will not be merging with the WHA this year.
July 1978
Bassett asks for the floor at the beginning of the WHA's three day meeting and promptly withdrew the Bulls $300,000 from the league's escrow. Bassett said, "What is our future in the WHA? I can't answer that. If somebody will give me a definite answer concerning the economic future of this league, then a decision will be easy to make. But it appears our future is a year-to-year thing. Next summer it'll be the same thing over again. The same teams will go the the NHL, we'll be unable to sell season tickets because of the resulting confusion and end up dumping another million and a half bucks down the drain."
Bassett announces the Bulls will remain in the WHA. Bassett left the decision up to his limited partners. Bassett said, "I guess they're learning professional sports is an addiction."

With their decision to remain in the WHA, the rumors that Birmingham would merge with Indianapolis should die. There was a possibility that Birmingham's contract players would go to Indianapolis in exchange for a piece of the Racers franchise for Bassett. It was a way for him to keep a voice in the WHA. Bassett said, "Indy was an option. If the decision had gone the other way, we would have done it. They wanted to cash in on our personnel and expertise and help solidify their franchise. But now all that's history."

Bassett and Toronto lawyer Alan Eagleson are sued by the owners of the London Knights and the Sault Ste. Marie Greyhounds, two major junior league hockey teams, for inducing underage players to breach their existing contracts and turn professional.
September 1978

| | | |
| --- | --- | --- |
| | | |
| | 1978-79 World Hockey Association | |
| | Birmingham Bulls | |
| | Cincinnati Stingers | |
| | Edmonton Oilers | |
| | Indianapolis Racers | |
| | New England Whalers | |
| | Quebec Nordiques | |
| | Winnipeg Jets | |

December 1978
Indianapolis Racers owner Nelson Skalbania announces the Racers will be ceasing operations immediately.
March 1979
The NHL votes down a proposal for merger by four of the WHA's six teams. Of the vote, Bassett said, "The courtship with the NHL is over." The WHA also announced a five-year plan to strengthen their franchises and not petition the NHL again.
When the Edmonton Oilers defeated the Bulls 4-0, they ended one of the longest but least-known streaks in professional sports. The shutout was the first time the franchise had ever been shutout at home, through seven years and two hundred and seventy games. The streak dates back to the franchise's beginning as the Ottawa Nationals, then through the years as the Toronto Toros and now as the Birmingham Bulls. All teams were part of the WHA.
WHA President Howard Baldwin announces that the NHL has reconsidered the merger bid by the four WHA franchises saying, "It's done this time. It's going to happen." An economic blockade by beer drinkers forced the about-face by the NHL. One of the NHL franchises voting against the merger, the Montreal Canadians, is owned by one of Canada's largest beer makers, Molson Breweries. Hockey fans in Edmonton, Winnipeg and Quebec simply stopped drinking Molson products. Gunfire at one of the Winnipeg breweries was also reported.

The NHL/WHA merger is announced. The terms of the merge were $8 to $10 million from each of the WHA teams to join and they could retain only two goalies and two skaters.

Bassett spoke of Birmingham's future by saying, "I'm sorry we're not part of it, but our attendance and the size of the community does not merit that kind of dollar commitment required to go into that league. Unless something unforeseen happens, there will be a hockey team here next year. Right now the future is probably in the Central Hockey League. That league has pursued us, since the merger became a distinct possibility. My role in hockey here is undetermined at this time. Several people from the Central League, and the NHL, have come to me and asked if I would see that hockey stays in Birmingham."

April 1979
The NHL's Atlanta Flames announce the Tulsa Oilers of the Central Hockey League have broken their affiliation with them and the Flames plan to move their farm team to either Birmingham or Houston. Flames General Manager Cliff Fletcher said Houston is ready to go.
Atlanta Flames Assistant General Manager David Poile said the Flames will be looking for people in both cities as financial partners. "We've done it both ways in the past, sometimes with the Flames owning the team outright and sometimes with some local ownership. We feel it is always to our advantage to have people in the city involved in the operation of the club. It helps create interest when you have someone there helping to run it, rather than an owner from Canada or Atlanta," Poile said.
May 1979

It is announced that a group of local businessmen headed by investment consultant Frank Falkenburg have secured the rights to Birmingham's Central Hockey League franchise. They will be a farm team of the NHL's Atlanta Flames. John Brophy will remain as coach. John Bassett, who was President and majority owner of the Bulls while they were members of the WHA, will own less of the club but will remain with the organization as a CHL Governor and NHL liaison. The new ownership group will be known as Magic City Sports. Peter McAskile, who was Executive Vice President last year, will be President. McAskile said the new Bulls would only need 4,000 fans in attendance each game in order to break even.

The Central Hockey League was created in 1963 due to the increasing need to provide a developmental league for players who's only drawbacks were lack of quality playing time. Jack Adams and Tommy Ivan were co-founders of the CHL.

December 1979
Ronald Ryan, the Cincinnati Stingers General Manager, announces that the Stingers will be folding "effective immediately".
February 1980
O. Wayne Acord, part owner of the Salt Lake City Golden Eagles, and his wife, Lorraine, are found bound, gagged and shot in the head at their home in Utah.
July 1980
The Calgary Flames and the Birmingham Bulls announce Paul Henderson will return to the Bulls as a playing assistant coach.
October 1980

1980-81 Central Hockey League

North Division
South Division
Indianapolis Checkers
Birmingham Bulls
Oklahoma City Stars
Dallas Black Hawks
Salt Lake City Golden Eagles
Fort Worth Texans
Tulsa Ice Oilers
Houston Apollos
Wichita Wind

January 1981
The Houston Apollos announce they are folding. The CHL dissolves the current division alignments.

CHL President Bud Poile visits Birmingham to meet with Bulls President Pete McAskile and several key investors about the Bulls finances. The Bulls concerns center around the distant location of the other CHL franchises, which coupled with low attendance, has put a strain on the Bulls' balance sheet. Poile said, "I know we need to do something to help Birmingham and Indianapolis. Travel is a burden on these clubs, along with Salt Lake City on the other end. Indianapolis and Salt Lake City are doing well enough to offset it, but I am concerned about Birmingham. There is no immediate concern. I hope. But I want to get something going pretty quick to head off any crisis. I don't want another Houston on my hands. I've had one, that's enough. I don't mean to imply Birmingham is anywhere near being another Houston. I simply want to get any financial problems headed off right now."

McAskile said, "We've had financial problems, but we're committed to play the rest of the season and decide what to do next year when the time comes."

February 1981
Frank Falkenburg, Chairman of the Executive Committee of Magic City Sports, and Bulls President Pete McAskile announce to the Calgary Flames that the Bulls are folding. Falkenburg said, "We were just never out of the hole this year. I hold Calgary totally to blame for never giving us a competitive team. We went to them this morning for financial assistance and they have no interest in us continuing to play. We put $60,000 into the franchise the last 3 weeks just to keep it going. But we are at the point where we can no longer pump money into the team. If we had had big gates Thursday and Friday we could have made the road trips and probably finished the season. We will close it as clean as we possibly can. We intend to pay all our outstanding obligations. We will probably lose between $150,000 and $175,000 by shutting down now. That's on top of about $200,000 we lost last year."

When asked for his reaction to the news, Head Coach John Brophy said, "I was shocked like everybody else. I knew about the financial problems, but I thought for sure we would finish the season. Of course, I am disappointed more than I can tell you."