Will Birmingham join the United States Basketball League?
March 19, 1985
Dianne Kirksey, a native of Eutaw, says she and two others have the option to form a United States Basketball League team in Alabama when the league begins its second season in 1986.

The others involved are Dick Barnett and Michael Floyd, co-owners of the New York franchise. "A site has not been picked for Alabama yet, but it will likely be Birmingham," Kirksey said.

Kirksey currently is a media consultant for the USBL's New York franchise. Kirksey will be in charge of the halftime shows for the New York franchise and will syndicate shows for other teams in the league. Kirksey is also an actress, having appeared on television, in movies and on stage. In 1968, she became the first black member of a University of Alabama homecoming court.

The USBL will begin its first season later this year and will mainly operate in the Northeast, but has plans to expand into the South and West next year.



June 1986




1986
United States Basketball League
xx
xx
xx
xx
xx
xx

New Jersey Jammers
Gold Coast Stingrays
Springfield Fame
Staten Island Stallions
Tampa Bay Flash

Westchester Golden Apples
Wildwood Aces
Epilogue
The United States Basketball League bucked the odds and actually had a second season. Unfortunately, Birmingham was not one of the seven teams.

Over the next few years, the league would have teams come and go before finally deciding to cease operations after the 2007 season.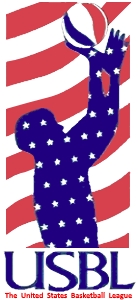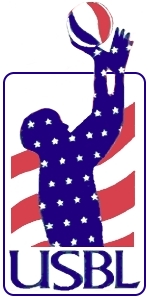 Other logos used by the United States Basketball League
Contact Gene Crowley
Last update: September 28, 2019