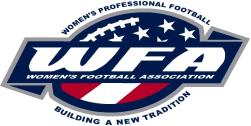 The Women's Football Association begins play in eight cities. The WFA is a re-organization of the Women's American Football League that played last year. The Alabama Slammers were members of the original WAFL and played some of their games in Birmingham.

Due to league mismanagement, six of the teams decided to leave the WAFL and start their own league. Two new teams, one being the Birmingham Steel Magnolias, were also added.

The WFA will play by National Football League rules.
2002 Women's Football Association

Central Conference
Southern Conference
Birmingham Steel Magnolias
Jacksonville Dixie Blues
Georgia Enforcers
Orlando Fire
Indianapolis Vipers
South Carolina Crusaders
New Orleans Voodoo Dolls
Tampa Bay Force