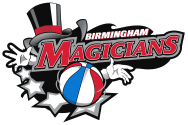 Team and League History
July 2004

Joe Newman, co-founder of the American Basketball Association, confirms that Birmingham will have an ABA team in 2005.

According to Newman, "It is impossible to keep a secret. I'm getting calls everyday. The word is out; we will be in Birmingham and it will make a great addition to our Southeast division." Newman added, "The team will be operated by an ownership group led by Birmingham attorney, Reginald McDaniel. Reggie recently attended the ABA League Meeting in Indianapolis. All I can say is that he has some great ideas and is very committed to making his team successful. Beyond that, I'll let the world contact Reggie directly."

The ABA's first season was in 2000-2001 and originally began playing under the name ABA2000. The league suspended operations for the 2002-2003 season but has been playing ever since.

May 2005

In announcing free agent tryouts, it seems the local ABA franchise will be known as the Birmingham Magicians.

October 2005

Magicians owner Reggie McDaniel announces that former University of Alabama basketball player, Jim Farmer, has been named the first head coach of the team. "Jim and I grew up in the Dothan area around the same time and I have followed his career through the great years at Alabama and his professional career. Jim brings a wealth of basketball knowledge and experience to our organization and we are confident in his abilities as a head coach," McDaniel said.

Farmer, who now resides in Nashville, was All-SEC and an All American while at Alabama. He was a first round draft pick of the Dallas Mavericks in 1987 and spent five years in the NBA. In 1991 he was a member of the Birmingham Bandits, a Continental Basketball Association team that lasted one year before moving. He also toured with the Magic Johnson All-Stars for three years. Farmer has since coached the Kentucky Reach in the World Basketball Association where he led the first year team to the playoffs.

Farmer believes the Birmingham Magicians will be one of the premiere teams in the ABA and that Birmingham will be a great city for professional basketball if done right. "We are looking forward to a long and successful tenure in the great city of Birmingham," Farmer said.

Also, the Birmingham Magicians are finalizing a deal to play their home games in the Fair Park Arena at the Alabama State Fairgrounds.

November 2005

2005-06 American Basketball Association

Spencer
Haywood
Division
Freddie
Lewis
Division
Roger
Brown
Division
Marvin
Barnes
Division
Ron
Boone
Division
George
Gervin
Division
Connie
Hawkins
Division
Moses
Malone
Division
Bejing Aoshen
Olympian
Detroit
Wheels
Boston
Frenzy
Atlanta
Vision
Bellevue
Blackhawks
Gallup
Talons
Buffalo
Rapids
Baltimore
Pearls
Inglewood
Cobras
Indiana
AlleyCats
Harlem
Strong Dogs
Birmingham
Magicians
Bellingham
Slam
Kansas City
Knights
Maryland
Nighthawks
Charlotte
Krunk
Las Vegas
Rattlers
Kentucky
Colonels
Montreal
Matrix
Florida
Pit Bulls
Fresno
Heatwave
Lincoln
Thunder
Niagara
Daredevils
Chattanooga
Steamers
Los Angeles
Aftershock
Lake Erie
Rockers
Newark
Express
Reigning
Knights of
Georgia
Hawaii
Mega Force
New Mexico
Style
Northeast
Pennsylvania
Breakers
Nashville
Rhythm
Orange County
Buzz
Ohio
Aviators
Strong Island
Sound
Mississippi
Stingers
San Francisco
Pilots
St. Louis
Flight
Rochester
Razorsharks
Richmond
Generals
SoCal
Legends
Pittsburgh
Xplosion
San Jose
Skyrockets
Texas
Tycoons
Tijuana
Dragons
Toledo
Ice
Tacoma
Navigators

December 2005

The Birmingham Magicians announce today that the team is rescheduling the remaining December home and away games to dates in 2006 due to several opponents suspending operations for the year.

The ABA announced recently that Chattanooga, Nashville and Georgia will not play the rest of the season due to not meeting league requirements. While details are hard to come by, apparently there are a few other ABA teams that have folded or have ceased operations for this season in an attempt to return next season. Rumors continue to swirl that other franchises seem to be on the brink of folding as well.

David Sayers, Director of Basketball Operations for the Magicians, said he is working with the remaining teams in the Southeast to get the revised schedule completed. "It has been quite unfortunate that the franchises of Chattanooga, Nashville and The Reigning Knights of Georgia were unable to complete the season. But this will allow the remaining teams of Florida, Atlanta, Charlotte, Mississippi, Richmond, Birmingham and the ABA league office to work together to adjust schedules and finish the season united," Sayers said.

January 2006

Jim Farmer makes his debut as player-coach in a home game against the Florida Pit Bulls. Another former NBA player, Tim Hardaway, is player-coach of the Pit Bulls.

"Iíve been trying to get in shape,íí said Farmer, who is now 41. "I donít know how much Iíll actually be out there on the court - maybe five or 10 minutes. Reggie has been wanting me to get out there and play, so we thought this might be a good game for that. I practice with the guys when somebody is hurt, so Iíve been out there some."

Farmer believes the ABA has a strong future despite some ownership problems in other markets. "Most of the teams have players fans would have heard of through college. Itís semi-pro basketball, but thereís plenty of good talent," Farmer said.

In an apparent attempt at reducing overhead, all remaining home games will be played at Jefferson State Community College's LeRoy Brown Health, Physical Education and Recreation Building.

With the purpose of gauging interest for possibly placing a team there, owner Reginald McDaniel announces the Magicians will play a "home" game in Dothan, Alabama on January 26, 2006. "I'm 95 percent sure it's going to happen. We're committed to it," McDaniel said.

Both McDaniel and Magicians player-coach Jim Farmer are Dothan-area natives.

McDaniel says he has an interest in placing a team in Dothan next season if the response from the community is good. He said there's even a possibility the Magicians could return to Dothan again this season. "If it works out well and we get a good response, we'd really look forward to coming back. I'd personally like to see a team down here. We have so much (entertainment) competition in Birmingham, but we have a pretty strong core of fans," McDanield said.

Matt Parker, president of the Dothan Area Chamber of Commerce, said preliminary discussions with McDaniel about locating a team here in the future were initiated during the summer. "It's a good opportunity to get a feel for what having a team here would be like," Parker said of the proposed game. "I think folks would like to see something like this here. There is a lot of former college players in the league."

June 2006

Magicians owner Reginald McDaniel announces that the team will not play during the 2006-07 American Basketball Association season but will return for the 2007-08 season.

In his statement, McDaniel says, "The Birmingham Magicians have decided to defer playing until the 2007-08 ABA basketball season. The Magician's management wish to thank the fans, the ABA, and our supporters for a great inaugural ABA season. We will continue to work in the community as we have done during this brief hiatus as we prepare for the 2007-08 season. We strongly support the ABA and its continued growth and progress. We look forward to a long successful future in the ABA."