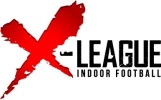 At a press conference following the weekly Birmingham City Council meeting, the X-League announces that Birmingham will be the sixth team in the league's first season, set to start in March 2014.
X-League commissioner Michael Mink and local franchise owner Larry Ellison are planning to bring a new brand of indoor football to the area and pledge that they would do so with no help from the city. "The city is not going to financially help us at all. I did not ask for any money. I do not need any money from the city. We're going to totally fund this off of my current business that I've owned since I was 20 years old. We're also going to fund it off of sponsorships and marketing packages that we sell. We will not ask the city for a dime. All we asked was for the venue and also the media exposure that they can help us with," Ellison said.
The team will be known as the Alabama Outlawz and they will play their home games in Bill Harris Arena, which began $3 million in improvements about a month ago. The area is part of the Birmingham CrossPlex facility located on the old state fairgrounds.

"This is a great day for the city of Birmingham. This is what we envisioned when we made the improvements and it's also in line with the mayor's vision as far as making Alabama a sports destination," said Kevin Moore, director of Birmingham CrossPlex and Bill Harris Arena.

Ellison, who will also be the team's head coach, said he is establishing a three-year contract with the city for the use of the arena, with an option for two more three-year contracts.

There will be 10 teams in the new league but the Outlawz are the sixth that has a home playing venue. The other four teams will only play away games.

Tickets prices are planned to be $15 for lower level seats and $10 for upper level seats.

Mink, the league's commissioner, has a history with the city. He graduated from UAB in 1988 and is a former Blazer baseball player.

"I would like to welcome you to a new era of indoor football. The league will feature a game unlike any seen before in football. Regardless of the playing surface, it is the perfect fusion of an outdoor playing style (that) will allow even out novice fans the ability to identify with our game easier. However, our foremost concern will be the consistent production of a quality product for our fans to enjoy," Mink said.